Special extraction solutions for special vehicles
NORFI offers extraction solutions for everything that emits exhaust gases. Especially in the field of special applications, e.g. diesel locomotives or military vehicles NORFI can prove its experience and competence in developing, offering and implementing custom-made and economical solutions.
Benefit from our longtime development experience and the wide range of products. There is only one manufacturer that offers this quality, operator-friendliness and durability: NORFI.
---
Extractions systems for special vehicles
The greater the challenge, the more important your partner - NORFI
Special vehicles like diesel locomotives or military vehicles are characterized by a unique design which makes it difficult for the manufacturers and maintenance services to work with customary extraction systems. They are looking for a partner who is competent enough to identify the requirements and who is flexible enough to implement a perfect solution, in spite of the specific features of their machines and vehicles.
Extraction systems for diesel locomotives
We at NORFI have brought together all our knowledge, our 40 years of experience and our expertise in the field of extractions systems for diesel locomotives as well as our competent knowledge in the area of automatization and system manufacturing. Characteristic of diesel locomotives are big exhaust volumes which are emitted from exhaust pipes with a large cross-section. Diesel locomotives cannot arrive at the test stand for extraction, so the extraction system has to come to the locomotive: NORFI meets this great challenges with style:
Our systems are equipped with rotating and tilting swivel arms with a wide operating range, placed centrally to the exhaust pipe either manually or fully automatically by means of a tailor-made conveyor automatic. The swivel arms themselves are at any time outside the working area during extraction process. In this way, an undisturbed work process is guaranteed.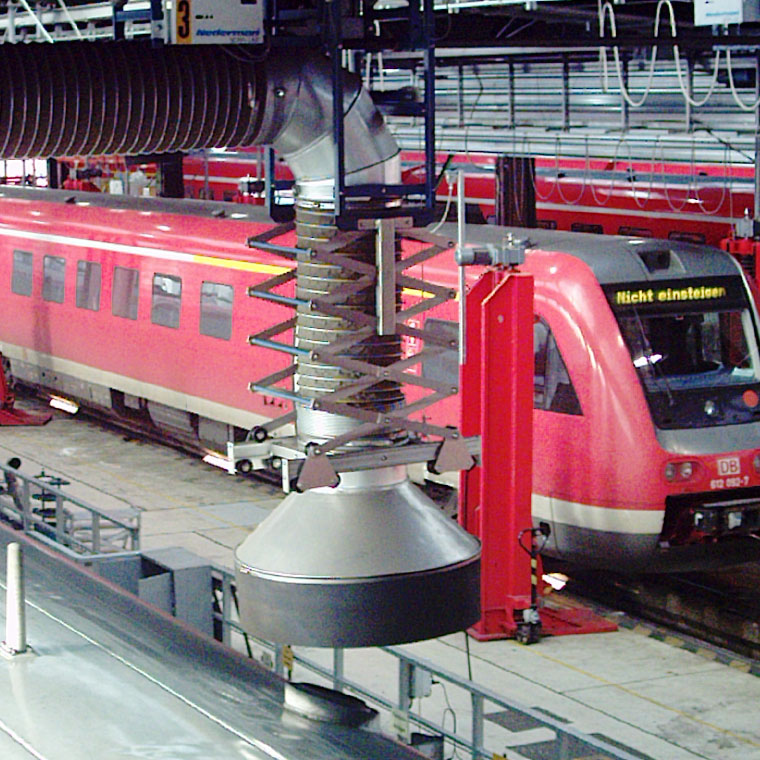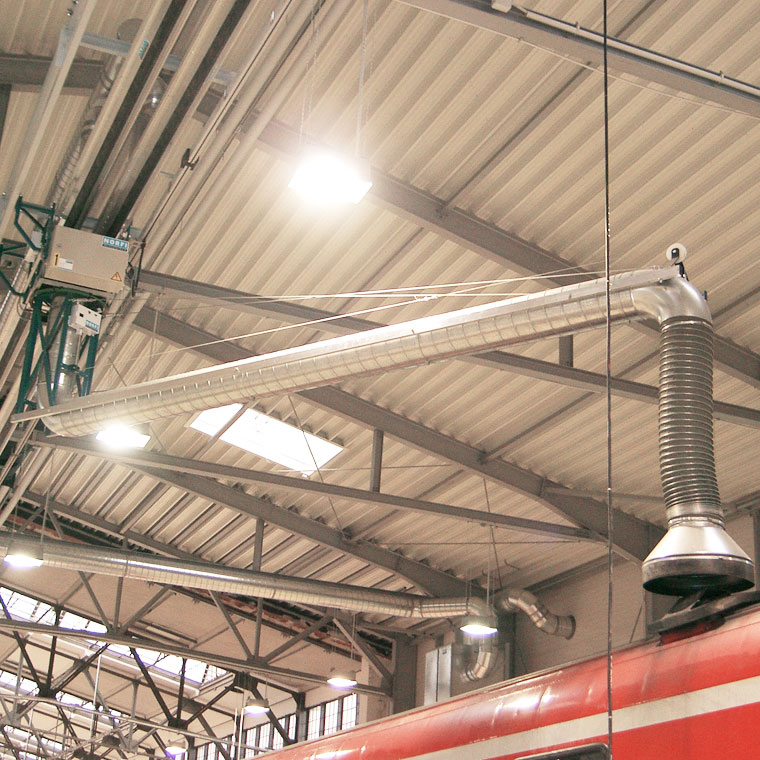 A further challenge in the realization of extraction systems for diesel locomotives is their integration into the existing building situation. Many of the maintenance halls are old, and there is a need for a solution that is compatible with the state of the respective hall. In this case, you can also count on NORFI. Please ask us: We will be happy to provide you with any improvements, or we develop a special solution to modify your existing extraction system.
Extraction systems for military vehicles
Extraction systems by NORFI for military vehicles are tailor-made solutions, which are specially designed and implemented according to the individual requirements of the customer. Their functionality and operability comply with the specific features of the vehicle, e.g. unimogs or trucks, but also for smaller transporters and armoured vehicles. The exhaust system of military vehicles are mounted in a higher position at the chassis compared with usual vehicle types, and they are mostly completely cased.
In addition, some military vehicles such as armored vehicles have rotating driver's cabins. When developing the extractions system for military vehicles NORFI has been taken into account all these specific features, and has developed a solution that guarantees a reliable and safe extraction of exhaust gases.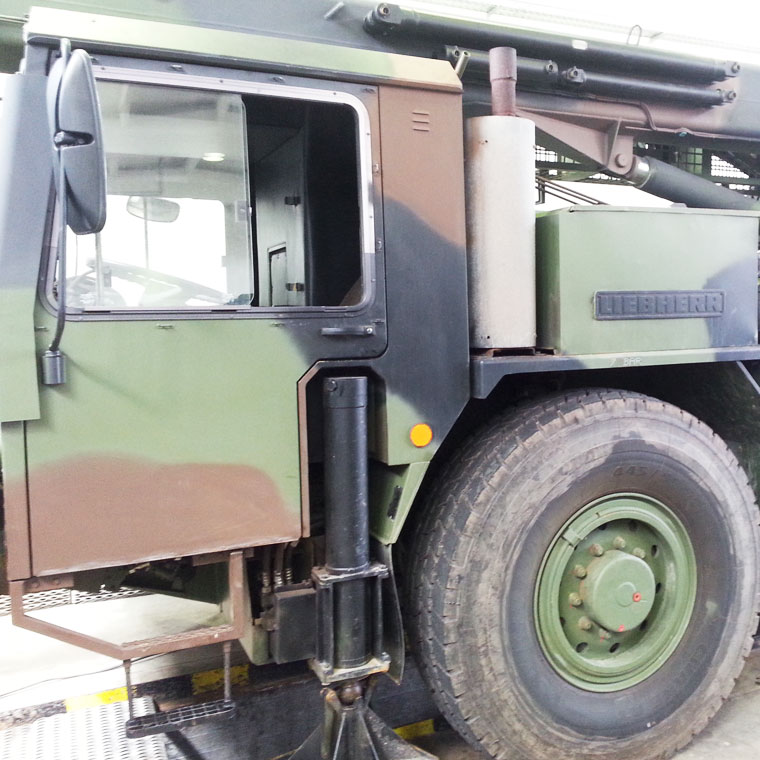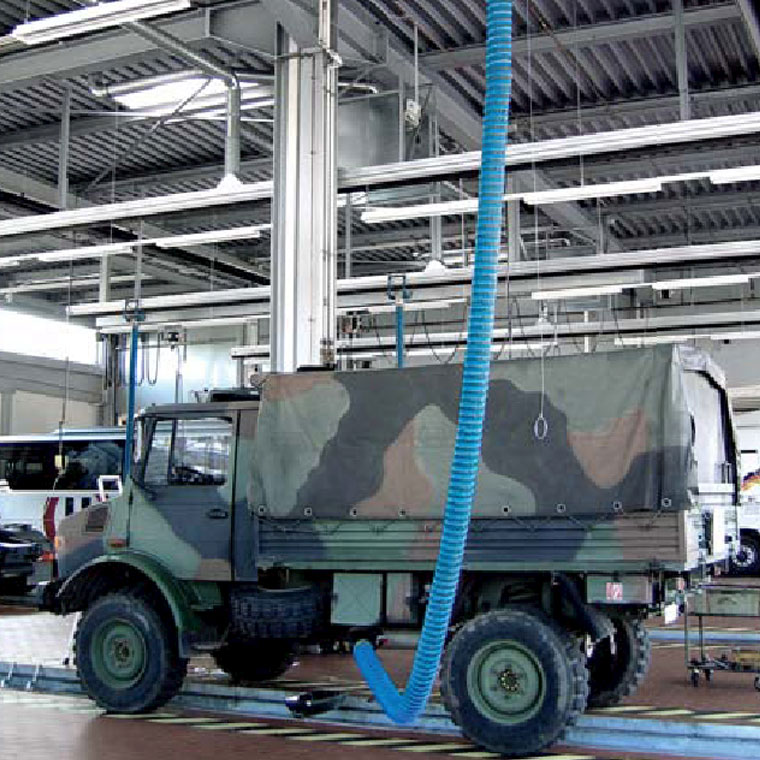 Thanks to their robust design, NORFI systems can also be used in long-term tests withstanding the resulting high temperatures. Depending on the building construction, extraction systems by NORFI will be integrated into the existing building construction or, if necessary, will be mounted on special developed supporting structures.
---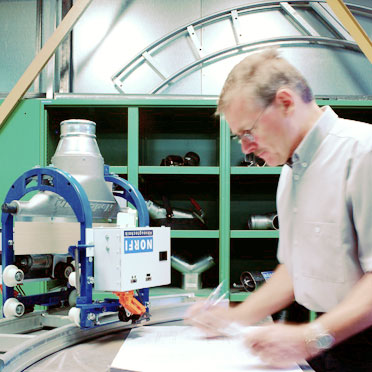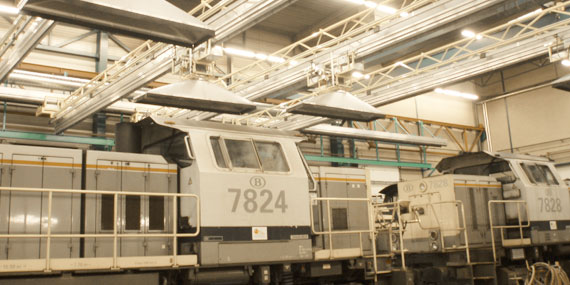 NORFI services in the field of special vehicles
NORFI has an extensive background in the conception and technical implementation of custom- made extraction solutions and finds always the right solution, however unusual the individual requirement is. Our extractions systems for special vehicles are the optimal solution to meet your individual requirements based on tried and tested processes.
Planning
With nearly 40 years of experience in the automobile production we concentrate on finding the electro technical and mechanical perfect solutions to meet your requirements. And we design it under economical aspects.
Development
During this phase our experience helps you to avoid possible mistakes. Through careful and permanent reviews of all details, autonomous and foresighted work.
Manufacture
The manufacture including electrical engineering and assembly of control boards are carried out in our own premises, from A-Z. Before delivery all components and systems are thoroughly tested and documented.
Realization
The installation is carried out by our own staff – all specialists. The project manager is on site - as well for coordination and monitoring.