Perfectly integrated in production lines
NORFI stands for nearly 40 years of competency in the automobile production. Whether for extraction systems, battery charger systems, conveyor systems or filter systems: based on our many years of experience we can easily put ourselves into our customer´s position – and understand the view of the operator who has to use the system daily. The result makes the difference – for handling, functionality or profitability.
---
Extraction, battery charger, conveyor & filter technology
NORFI knows what is important in the car production process!
The automobile production has many challenges to meet: going from the production line via test stands and performance test stands to rectification areas - the requirements are always changing. A number of different assembly steps are necessary at different times – and for NORFI the challenge is to develop a solution for each requirement and which permts the operator to work efficiently and effectively, at any time during the production. NORFI offers custom-made solutions for modern production halls.
---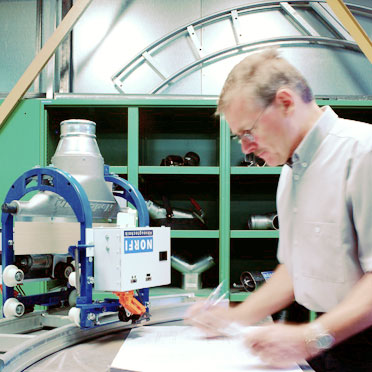 NORFI services in the field of automobile industry
NORFI has an extensive background in all process-relevant technologies in the automobile production and realizes the optimal solution to meet your individual requirements based on tried and tested processes.
Planning
With nearly 40 years of experience in the automobile production we concentrate on finding the electro technical and mechanical perfect solutions to meet your requirements. And we design it under economical aspects.
Development
During this phase our experience helps you to avoid possible mistakes. Through careful and permanent reviews of all details, autonomous and foresighted work.
Manufacture
The manufacture including electrical engineering and assembly of control boards are carried out in our own premises, from A-Z. Before delivery all components and systems are thoroughly tested and documented.
Realization
The installation is carried out by our own staff – all specialists. The project manager is on site - as well for coordination and monitoring.
NORFI references in the automobile production: